Product Description
Attain your skin's exquisite youthful look with the vitality of ginseng
A concentrated ginseng anti-aging cream to care comprehensive signs of aging for revitalized look of skin. (Original Texture)

- Ranked no. 1 in the anti-aging cream category at department stores for 7 consecutive years.*
- More than 50 years of Ginseng research, and more than 100 international research papers and patents.
(*2012 ~ 2018, Beaute Research Korea)
Embodying 50 years of ginseng research for a revitalized lookSulwhasoo found ginseng's anti-aging essence "Compound k and ginsenoside re", each from ginseng roots and ginseng flower. Exclusive ginseng formula helps to reduce the the comprehensive signs of skin aging and make skin look revitalized
From skincare to Image Anti-aging careConcentrated ginseng renewing cream ex performs image anti-aging- younger and softer complexion achieved by firmer-looking skin around face "Image Zone*".
*Image Zone is a new concept with which Sulwhasoo measures anti-aging effects and defines a youthful, friendly look. Sulwhasoo identified image zone by connecting areas susceptible to aging due to repeated facial expressions and loss of skin's elastic look.
A rich yet subtle sensual experienceMade with Sulwhasoo's multi-emulsification technology, the nutritious texture offers a richly hydrated finish as well as a luminous and glowing look. Subtle yet full-bodied scent of ginseng roots.
Image Anti-aging care for a younger and softer complexion
Caring for the Image Indicators, for a firm and rejuvenated look* Clinical results for aging care on Image Indicators / Test subjects: 31 women / Test period: 8 weeks / Research institute: Ellead Skin & Bio Research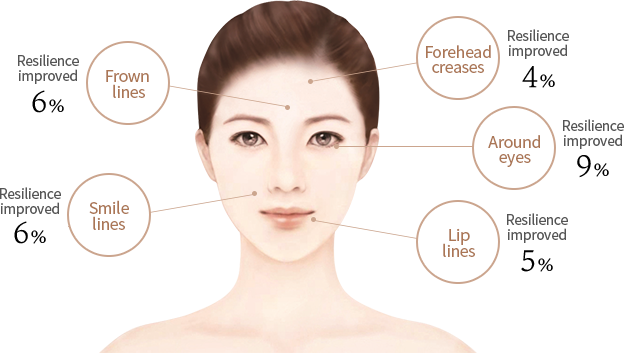 Customer satisfaction survey results for Image Anti-aging* Test subjects: 32 women 42~56 years of age / Test period: 8 weeks / Research institute: BNRI
Answered that they looked younger41%
Answered that they looked friendlier35%
Answered that they looked more elegant54%
Answered that they looked healthier29%
Answered that they looked livelier35%
How to Use
Use as a day and night cream. Apply a moderate amount and spread evenly across your face.
Additional Information
Sales Information

| | |
| --- | --- |
| Volume Weight | No |
Frequently bought together
Customers who bought this product also commonly purchased the following combination of items.
Customers Who Bought This Item Also Bought
Regular Price: $17.00

Special Price $5.53

Regular Price: $14.29

Special Price $11.86